Volunteer Spotlight: Lessons from Lifelong Learning with Jana Grote

Volunteer Spotlight: Lessons from Lifelong Learning with Jana Grote
Jana Grote is a retired fish and wildlife biologist. She worked for 32 years with the US Fish & Wildlife Service. Jana has been a longtime Salmon Watch supporter, trainer, and volunteer educator.
How did your interest in biology first develop, and how did that lead to your chosen career path?
My interest in biology can be traced back to a couple of really special teachers and mentors. My 6th grade teacher did lots of science demonstrations which I always enjoyed.
But when I got to college, I started out as a drama and psychology major. But I had a friend who was going into nursing, and so we visited the biology department and met with a professor. And that professor contacted me afterwards and said, "I noticed you didn't sign up for one of my biology classes." And I said, "No, I don't like biology."
But he continued to encourage me to take one of his classes. So I took his class, and the rest is history. He really encouraged hands-on, experiential learning. We took field trips around the country. We went to Oregon, the Florida Keys, and Colorado. We did projects and experiments. And it got me hooked, and that's how I became a fish and wildlife biologist.
Why was the experience of hands-on learning so impactful for you, and how does that relate to Salmon Watch?
For me, actually seeing and touching something makes the experience more tangible, more real. You remember it longer. I still remember the hands-on activities we did in school many decades later. Salmon Watch provides that for the students. On Salmon Watch field trips, students are out in nature experiencing things firsthand.
I love when I get upstaged by what's happening in the natural world around me on a Salmon Watch field trip. Once we saw a mother bear and two cubs, and the cubs climbed down a tree and swam across the Little White Salmon River, and all the kids got to see that. Another time, we saw a bald eagle catch a salmon right in front of us. The kids will remember those things for the rest of their lives.
Why is outdoor education so important?
Studies are showing that spending time in nature has tremendous benefits for us as individuals and a society. It has benefits for physical and emotional health. It can help lower blood pressure, it can help increase focus. There are countless benefits.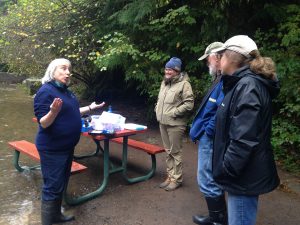 But it seems like people are in danger of engaging with nature less and less frequently than when I was growing up, and kids played outside more. And if people are going to be able to make long-term decisions about preserving nature, they need to first have some personal understanding about what nature is, how it helps us, and what benefits it provides. And then they need to gain some knowledge about how the natural world functions to go along with that.
So, eventually with those tools they can take action. One of the things I like about Salmon Watch is that it's teaching how to problem solve and think through issues rather than what to think. And so, I think that gives young people tools so they can make decisions on supporting conservation in the future from a sound knowledge and experience base.
Do you think Salmon Watch helps instill an environmental ethic in students?
Salmon Watch isn't just about salmon. It's about interconnection. We're connected to our environment, and the decisions we make have impact. Salmon Watch helps students understand how we relate to nature, how we're part of an ecosystem, part of a watershed, and part of a larger community.
And diversity in that community is very important. Awareness of the interconnections that Salmon Watch emphasizes has impacts on how we work through issues and how we collectively are a community.
Our values as people are formed pretty early in life. In the age range that Salmon Watch is working with, at the middle and high school level, that's when young people are considering different values, they're taking note of the values of leaders and role models around them, and then trying to develop their own personal values.
I think having exposure at that young age to role models that are concerned about the natural world makes a lifelong difference.
Do you think Salmon Watch helps empower students to pursue careers in science or conservation?
Positive experiences like Salmon Watch help make people receptive when opportunities come their way. To me, choosing a career is about finding your passion, your interest, and your skills.
Experiences like Salmon Watch can help make students receptive to opportunities related to science and conservation, and make them say, "Oh, this is really cool. I want to learn more about this. I want to do this."
So, it's a way to help find those passions. I think Salmon Watch is among a collection of experiences that go together to help students find a career path.
Can you discuss some of your personal experiences as a woman working in a STEM field, and any particular challenges or rewards?
I've seen a lot of changes over the years. One particularly striking instance occurred early in my career.
During my first week on the job, after I'd just moved thousands of miles from home, a male coworker came into my office and said, "I just want you to know that there are a lot of us here that are going to do our darndest to make sure you fail. You women shouldn't be taking our jobs." And (laughs) I was like, "Okay, thank you for letting me know."
So I was exposed to some gender-based tension. But there were also so many people who were welcoming and accepting, and saw me as an individual, saw the skills and assets I could provide. And we became colleagues and friends, and supported each other. And there was far more of that than of the first attitude.
So after that first encounter, I had the thought, "Should I quit? Should I go back home?" And then I thought, "No, I can do this job. I know that I can do this. And I care about nature and wildlife, and I want to make a difference."
And so from that point on, I just wanted to make sure that I contributed to the best of my abilities without being competitive. We all have unique and different powers and abilities to contribute.
What words of wisdom or encouragement would you give to young women who are considering careers in STEM fields today?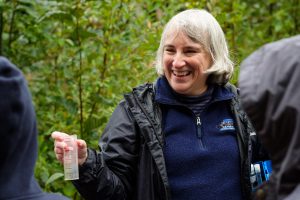 I would say, "Believe in yourself. Find what your passion is. And if you're following your passion,you'll find ways to overcome the hurdles that appear in your path." I would tell them to be willing to stand up for their scientific findings. If they believe they have evidence for something, stand by it. I would also encourage them to find colleagues and mentors that they can talk to, share ideas, share successes, and share some of the challenges as well. But mostly I would say, "Figure out who you are, what you want, and build on your strengths and talents. You're capable. Go for it."
What was it like to train youth educators from The Blueprint Foundation and Youth Ecology Corps this year?
It was one of the highlights of the Salmon Watch season for me. I've been training Project YESS volunteers for several years, and now Blueprint Foundation and Youth Ecology Corps. I am so impressed by the young adults that participate in these programs, their willingness to take on new challenges, try new things, and move outside of their comfort zone.
I really enjoy seeing how Salmon Watch is making a difference in their lives. I see them gain insights about themselves, their futures, and their ability to have an impact. We're all part of an interconnected community, and peer-to-peer learning within our community is extremely beneficial.
Why is it important to provide leadership opportunities, particularly related to conservation and the environment, to young people from underserved backgrounds?
As I mentioned, the benefits of being outdoors and being connected to nature are tremendous. I think a lot of young people in underserved communities haven't had the opportunity to reap some of those benefits. And I think when they participate in a program like Salmon Watch, it allows them to experience those benefits.
And then they can share those experiences with others in their communities. Exposure to nature can then grow and expand through community relationships, and expose a lot of other people who wouldn't otherwise have the opportunity to get out and enjoy nature.
Likewise, if you don't have exposure to career opportunities, you have no way of knowing those are careers you can pursue. Exposing people to nature and conservation careers opens up the world of possibilities, and increases options, increases potential.
You've been a volunteer trainer for Salmon Watch for many years. If you were to tell others why they should volunteer with Salmon Watch, what would you say?
I find it very personally rewarding. I always get out of it more than I put into it. I am constantly learning new things from the students, other trainers, and parent volunteers. And that's exciting!
I love lifelong learning. It keeps us engaged and refreshed. I love seeing those "aha" moments and being upstaged by nature on field trips, and seeing how excited students are when they see nature in action.
Overall for me, it's rejuvenating, it's energizing, and I know that other volunteers would find those same benefits.