"The World Salmon Council is poised to become a significant voice for promoting wild salmon conservation and healthy watersheds, and inspiring a life-long stewardship ethic in young people."

— Joe Whitworth, President, The Freshwater Trust
"Sitting by the river and watching the salmon spawn inspired me to action more than any lecture, lesson or leaflet ever could have."

–Sarah Chamberlain, Salmon Watch student alumna, Wilson High School (Portland)
"This experience really helped me to see my future. Now I know that I want to educate people, and hopefully pursue a career in helping to remove pollution from our water supplies."  

 —Maria Fuentes, Salmon Watch volunteer educator, Centennial High School (Portland)
 
Did You Know?
The oldest verified fossil for a freshwater version of the salmon is 50 million years old. Five to six million years ago salmon had fangs, weighed over 500 pounds, and were ten feet long. The modern Pacific Salmon emerged about two million years ago in the cold mountain streams of the Pacific Northwest.

Who We Are
World Salmon Council is a 501(c)(3) nonprofit environmental for-purpose organization. Our mission is to provide experiential education and encounters with Pacific wild salmon to connect students and adults with nature and empower community engagement.

Salmon Watch
Using salmon as the focal point, Salmon Watch provides comprehensive, multidisciplinary education in the classroom, field study and in-stream observation, and community service projects. It only costs $45 per student to give them the opportunity to experience firsthand in a meaningful way the wonders of the natural world. Help us get more kids into nature!
Latest Blog Posts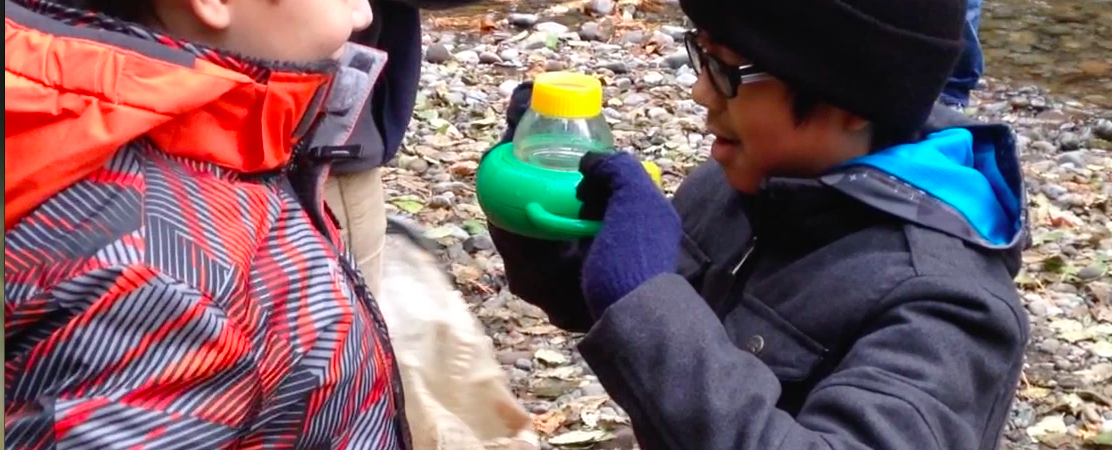 This past fall, World Salmon Council was privileged to continue our partnership with Youth Ecology Corps for a third season.
Youth Ecology Corps lost its federal funding this year and could not continue to operate its program past the fall. WSC is extremely grateful for the opportunity to have worked with YEC for a final season, and we documented the experience in a short video.
Youth Ecology Corps was a career-readiness program operated though Metro and Mt. Hood Community College that provided valuable experience in environmental restoration and natural resource management job skills for at-risk youth. Each year of the partnership, WSC provided training to YEC crew members to teach field stations on Salmon Watch field trips with Walt Morey Middle School.
Through Salmon Watch and other activities, Youth Ecology Corps crew members built leadership skills and confidence, gained knowledge about natural resource career fields, and developed skills to help them enter those fields.
Trevor, YEC crew member, says, "Through the entirely of YEC and Salmon Watch I've definitely gotten more comfortable in a leadership role. It was really cool just realizing that I was a lot more capable than I thought I was."
Read more ›

Jana Grote is a retired fish and wildlife biologist. She worked for 32 years with the US Fish & Wildlife Service. Jana has been a longtime Salmon Watch supporter, trainer, and volunteer educator.
How did your interest in biology first develop, and how did that lead to your chosen career path?
My interest in biology can be traced back to a couple of really special teachers and mentors. My 6th grade teacher did lots of science demonstrations which I always enjoyed.
But when I got to college, I started out as a drama and psychology major. But I had a friend who was going into nursing, and so we visited the biology department and met with a professor. And that professor contacted me afterwards and said, "I noticed you didn't sign up for one of my biology classes." And I said, "No, I don't like biology."
But he continued to encourage me to take one of his classes. So I took his class, and the rest is history. He really encouraged hands-on, experiential learning. We took field trips around the country. We went to Oregon, the Florida Keys, and Colorado. We did projects and experiments. And it got me hooked, and that's how I became a fish and wildlife biologist.
Read more ›

The redds are made. The eggs are laid. The students are full of new knowledge, inspiration and excitement about science, nature and salmon!
We've just wrapped up our 2017 field trip season, taking over 1,300 kids on 42 field trips to local rivers and streams to witness firsthand the incredible life cycle of salmon, gain insight into career opportunities related to ecology and the outdoors, and connect with their environment on a personal level.
And although Salmon Watch is only halfway through its annual program, we're ready to celebrate!
Of course, none of this would be possible without our amazing volunteer educators, hard-working teachers, community partners, and generous donors.
That's why we're hosting our End-of-Year Party on Tuesday, December 12 from 6:00-9:00 PM at North End Saloon in Portland to say a big thank you for all you do!
Please join us for an evening full of delicious food and drink and learn what Salmon Watch has been up to this year. This is also a great opportunity to meet like-minded community members who cherish our great outdoors and want to help inspire the next generation to protect it.
RSVP HERE
Read more ›
Sign Up for The Salmon Watcher newsletter