"The World Salmon Council is poised to become a significant voice for promoting wild salmon conservation and healthy watersheds, and inspiring a life-long stewardship ethic in young people."

— Joe Whitworth, President, The Freshwater Trust
"Sitting by the river and watching the salmon spawn inspired me to action more than any lecture, lesson or leaflet ever could have."

–Sarah Chamberlain, Salmon Watch student alumna, Wilson High School (Portland)
"This experience really helped me to see my future. Now I know that I want to educate people, and hopefully pursue a career in helping to remove pollution from our water supplies."  

 —Maria Fuentes, Salmon Watch volunteer educator, Centennial High School (Portland)
 
Did You Know?
The oldest verified fossil for a freshwater version of the salmon is 50 million years old. Five to six million years ago salmon had fangs, weighed over 500 pounds, and were ten feet long. The modern Pacific Salmon emerged about two million years ago in the cold mountain streams of the Pacific Northwest.

Who We Are
World Salmon Council is a 501(c)(3) nonprofit environmental for-purpose organization. Our mission is to provide experiential education and encounters with Pacific wild salmon to connect students and adults with nature and empower community engagement.

Salmon Watch
Using salmon as the focal point, Salmon Watch provides comprehensive, multidisciplinary education in the classroom, field study and in-stream observation, and community service projects. It only costs $45 per student to give them the opportunity to experience firsthand in a meaningful way the wonders of the natural world. Help us get more kids into nature!
Latest Blog Posts

This Earth Day 2017, Steven Jones' biology and environmental science students at Hudson's Bay High School had the chance to give back to their community and watershed by helping to rebuild the riparian area around Salmon Creek in Vancouver, WA.
On a drizzly Saturday morning, they ventured out to Salmon Creek Greenway and planted a variety of native trees as part of Clark Public Utilities' Annual StreamTeam Earth Day Fest.
Tommy Miller, a StreamTeam volunteer for five years, explained, "As trees grow, they provide a number of things. Shade is one of the first and foremost. They act as filters for water quality. And as they grow up and age out and end up falling over and dying, they provide wood and nutrients to the stream. All those three things are very important to salmon."
Steven Jones' high school students had the opportunity to learn about the importance of healthy riparian areas on their Salmon Watch field trip to Daybreak Park in October 2016. One of the four Salmon Watch stations is Riparian Zone Observation. In this station, students learn to observe the riparian area and look for clues regarding stream health. The presence of shade trees to keep water cool for salmon is one of the key features of a healthy riparian area.
Click on the title to read more!
Read more ›

Are you a middle or high school teacher looking for a way to integrate experiential education into your classroom? Apply to participate in Salmon Watch today!
What does it mean to be a Salmon Watch teacher?
Being a Salmon Watch teacher means that you are committed to helping instill in your students a deeper appreciation of the importance of wild salmon, watershed ecology, and being well-informed and responsible citizens.
As a Salmon Watch teacher, you will:
Incorporate the Salmon Watch curriculum into your classroom lessons, and make further connections between the field trip and the subject matter in your class;
Get to take your students on a field trip to one of our beautiful, nearby salmon-bearing streams where they will participate in four learning stations that will educate them on core principles of riparian ecology and salmon biology;
Complete a Salmon Watch Project (research, art, advocacy or service project) designed to reinforce the connections made on the field trip and involve students in giving back to their human and natural communities.
Click on the title to read more!
Read more ›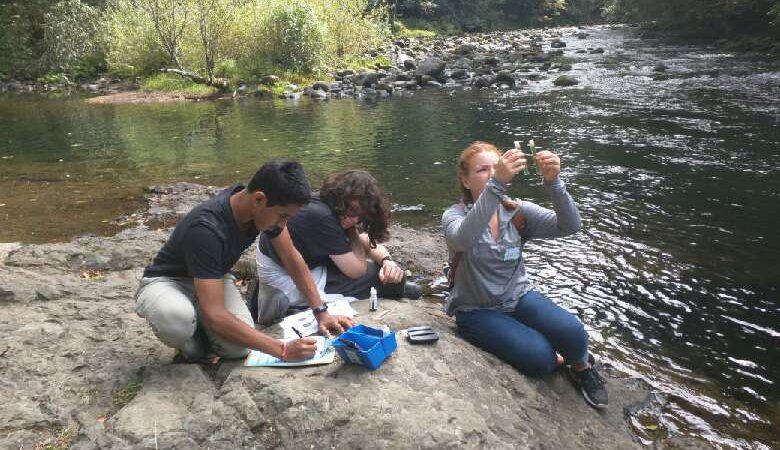 Issues related to ecology, watershed health and salmon don't just belong in a biology or environmental studies class. They are pertinent to a wide variety of subjects, and connect many themes throughout science, social studies, history, and language arts.
That's why 7-8 grade science teacher Alfonso Garcia Arriola and 7-8 grade social studies and language arts teacher Heather Kelly-Siegfried at ACCESS Academy make such a wonderful interdisciplinary teaching team!
Alfonso Garcia Arriola has been a science educator for 19 years, including 14 years at ACCESS Academy. In 2016, he was honored with the NSTA's Robert E. Yager Excellence in Teaching Award. Heather Kelly-Siegfried has been teaching middle school language arts and social studies for 16 years, including 4 years at ACCESS Academy.
Click on the title to read more!
Read more ›
Sign Up for The Salmon Watcher newsletter