"The World Salmon Council is poised to become a significant voice for promoting wild salmon conservation and healthy watersheds, and inspiring a life-long stewardship ethic in young people."

— Joe Whitworth, President, The Freshwater Trust
"Sitting by the river and watching the salmon spawn inspired me to action more than any lecture, lesson or leaflet ever could have."

–Sarah Chamberlain, Salmon Watch student alumna, Wilson High School (Portland)
"This experience really helped me to see my future. Now I know that I want to educate people, and hopefully pursue a career in helping to remove pollution from our water supplies."  

 —Maria Fuentes, Salmon Watch volunteer educator, Centennial High School (Portland)
 
Did You Know?
The oldest verified fossil for a freshwater version of the salmon is 50 million years old. Five to six million years ago salmon had fangs, weighed over 500 pounds, and were ten feet long. The modern Pacific Salmon emerged about two million years ago in the cold mountain streams of the Pacific Northwest.

Who We Are
World Salmon Council is a 501(c)(3) nonprofit environmental for-purpose organization. Our mission is to provide experiential education and encounters with Pacific wild salmon to connect students and adults with nature and empower community engagement.

Salmon Watch
Using salmon as the focal point, Salmon Watch provides comprehensive, multidisciplinary education in the classroom, field study and in-stream observation, and community service projects. It only costs $45 per student to give them the opportunity to experience firsthand in a meaningful way the wonders of the natural world. Help us get more kids into nature!
Latest Blog Posts

Salmon Watch had a fun, successful fall 2017 field trip season!
This fall, we hosted 42 field trips with 28 teachers at 21 middle and high schools in the Portland metro and Columbia Gorge regions. We brought over 1300 students to beautiful stream sites in Mt. Hood National Forest, Tillamook State Forest, the Columbia Gorge, Eagle Fern Park, and Daybreak Park (WA). These students had the opportunity to witness salmon spawning in the wild, learn about Pacific Northwest ecology, and gain a sense of connection to the incredible bioregion where they live.
The wildfires this season provided both a challenge and an additional learning opportunity for our students about the ecology of our area. We were fortunate to be able to relocate ten former Columbia Gorge field trips and two volunteer trainings to Eagle Fern Park near Estacada. Many thanks to Clackamas County Parks for providing last minute access to our new site. Our thoughts continue to be with all of those affected by the fires.
Salmon Watch was fortunate this season to be able to work with students from The Blueprint Foundation who are participants in a STEM mentoring program for young African-American males.
Click on the title to read more!
Read more ›

Shivonne Nesbit is Acting Assistant Branch Chief with the Portland Branch of NOAA Fisheries West Coast Region, as well as a Fish Biologist/ESA Permit Specialist with the NOAA Protected Resources Division. Shivonne also serves as President of the Oregon Chapter of the American Fisheries Society.
How did you gain your interest in science and biology, and how did that interest lead to your chosen career path?
I grew up on a lake in eastern Canada. Growing up in a lake ecosystem, I was always connected with water, seasons, and ecological changes. As a kid, you don't usually think about these connections. But we always swam in the summertime and built forts on islands, and in the winter we'd ice skate and you could look and see all the vegetation and fish under the ice.  I think growing up so connected to nature is how I became interested in science and biology. I spent pretty much all my time outside. We didn't have a TV or electronic gadgets, so the outdoors was our playground and our best toys.
How and why did you get involved in Salmon Watch?
Throughout my career as a biologist, I've always been involved as a volunteer with outdoor education. When I moved to Portland, one of my colleagues with the US Fish & Wildlife Service told me about Salmon Watch. So, I got involved as soon as I moved to this area in 2010.
Click on the title to read more!
Read more ›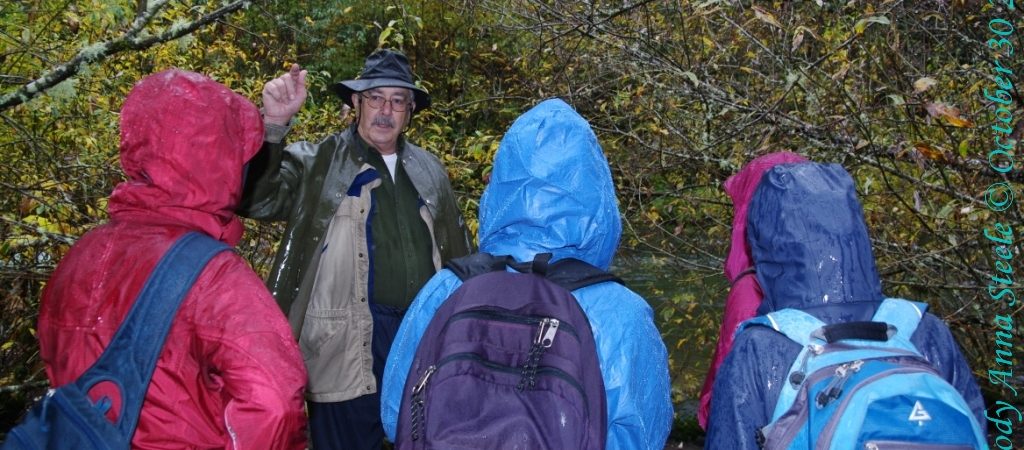 Alex Whistler is a retired forester with the Bureau of Indian Affairs. In fall 2016, he was a star Salmon Watch Volunteer Educator, teaching on a total of six field trips in the Riparian Zone Observation field station.
Why did you first get involved in Salmon Watch?
I started participating in Salmon Watch because years ago, a mentor of mine thought it was important for folks with Native American heritage to get involved in our local communities. I'm a member of the Sac & Fox tribe and my mother was Choctaw. My mentor convinced me it was important to do something with education and kids.
Can you elaborate on why your mentor thought it was important to get involved in environmental education in particular?
Native youth living in urban environments and urban kids, period, just don't get out in the woods enough. My mentor grew up on a reservation that was fortunate to have 4-H programs available. 4-H is a rural organization that has programs on forestry, bees, wildlife, soil, etc. He said his early involvement in 4-H was enlightening because once you learn the science behind what's going on in the soil or why bees are important, then you might want to come back to that field for a career. Kids need to know their options. They need to know there are more options available than playing basketball or being a rock star.
Click on the title to read more!
Read more ›
Sign Up for The Salmon Watcher newsletter