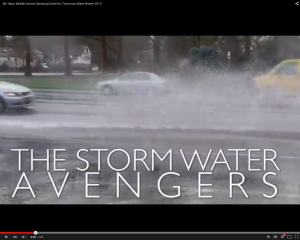 "In a city surrounded by impervious surfaces, pollution and stormwater, all that stands to protect salmon and aquatic insects are the Stormwater Avengers."
This is the opening line of a video introducing the mission of the Stormwater Avengers, also known as Kirk Ordway's life science class at Mt. Tabor Middle School in southeast Portland.
As part of World Salmon Council's award-winning Salmon Watch program, classrooms develop service projects to tackle critical issues and increase community awareness about wild salmon and the watersheds that support them.
After completing the Salmon Watch curriculum and seeing salmon spawning on the Salmon River in the Mt. Hood National Forest, Ordway's 6th grade class wanted to use their new knowledge and do something to give back.
Inspired by Portland's "Green Streets" program – planters that act as small rain gardens to capture polluted runoff from streets and keep our rivers and streams healthy – they decided to study stormwater management in both natural and urban settings.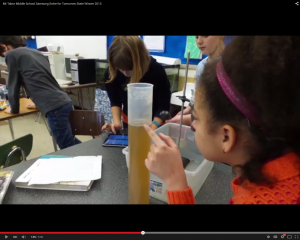 Their work included collecting data sets from three different eco-regions and analyzing differences between natural areas with very little impact and areas with high human impacts. The class then researched different types of landscapes and investigated several bioswale models. Bioswales are landscape elements designed to remove silt and pollution from surface runoff water and let water infiltrate into the ground instead of flowing into the storm drain system. PSU PhD fellow Gunnar Johnson assisted the class in their scientific research and project planning.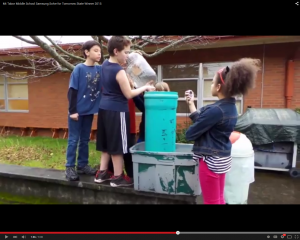 The result
The class engineered and installed two rain catchment systems, one at a residential home and one at a local food cart. The class calculated that their project kept nearly 2,000 gallons of water from flowing into the storm sewer in just one month's time, and will continue to collect and store tens of thousands of gallons of water every year!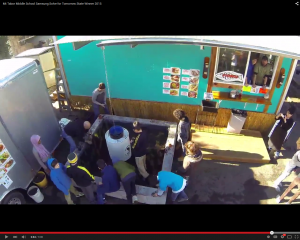 Not only are the Stormwater Avengers reducing polluted runoff and saving water, they are educating other members of the community in how big problems can be tackled with small solutions.
This project earned Mt. Tabor Middle School the winning prize for Oregon in the Samsung Solve for Tomorrow Contest, a nationwide competition awarding $20,000 to a school from each state and the District of Columbia to raise enthusiasm for science, technology, engineering and math (STEM).